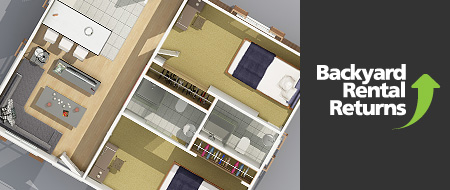 Backyard Rental Returns
The key to earning extra income is right in your own backyard
With the introduction of the NSW Government's Affordable Rental Housing Policy, granny flats are now easier and faster to build than ever before.
Development can be approved within 10 days for residential zones, allowing you to add value and flexibility to your existing property.
Granny flats are a versatile and affordable way to add rental profit to your family's income. A granny flat can be used for elderly members of the family, teenagers or as a studio, adding versatile accommodation space to your home.
For the purposes of investment property, a granny flat can be rented out producing a 20%+ return on investment (ROI).
NSW Construction Group Pty Ltd is a one-stop shop for design, approval and complete construction. We offer professionally researched and proven design solutions. We bring together architects, builders and tradesmen to save time and improve efficiency, ensuring that your rental profit is maximised.
Book a free consultation today to see how we can add life to your backyard or transform it into an extra source of income as an investment property.
Read more about NSW Government's Affordable Rental Housing Policy
For more information call us on 0405 478 078
email tony@nswconstruction.com.au