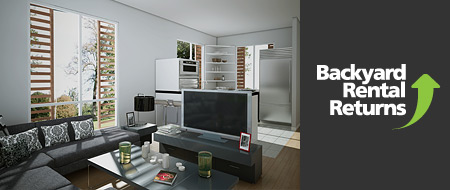 What is a Granny Flat?
A Granny Flat is a connected or exterior (secondary) property. This extra-accommodation can be used for a number of reasons, such as housing certain members of the household (students, elderly parents), or as an investment opportunity.
The basic premise for any Granny Flat is:
It is constructed to be either in the house, in conjunction with the house or is completely separate from the house.
It is on the same lot as the house.
There are several requirements that govern the construction of a Granny Flat. They are summarised below:
There can only be a maximum of one Granny Flat and one house on the same lot.
The combined total area used is to be in accord with the local environment plan relevant to the house in question.
The maximum area used does not exceed 60 square metres; or that prescribed by the local environment plan.
There is no SUBDIVISION* of the lot.
The Granny Flat must meet the planning controls set by State – for example, open space. It must also/ or meet the provisions of the ARH-SEPP.
It must comply in every instance to the BCA.

Features of the three types of Granny Flats.
1. The In-Home Granny Flat
This is perhaps the easiest and most-simple approach to the construction of a Granny Flat. Any alterations should be internal, with the only external change being the new entrance to the Granny Flat. So long as the Granny Flat is contained within the structure of the existing house than there is no restriction of the size of the lot.

2. The Home-Extension Granny Flat
The next type of Granny Flat is also rather simple. No requirements have to be met for the existing house, however there are provisions for the new Granny Flat inclusive of height, maximum site coverage, and maximum area. These are cited in our Design section (external tab). It is our business to sit down with you and set the necessary parameters prior to construction to certify the Granny Flat.

3. The Detached Granny Flat
The construction of a detached Granny Flat is just as simple so far as the necessary requirements are met meticulously. They are stated in the NSW Housing Code – a hard-copy can be provided on request. Some of the provisions that must be kept in mind include height, maximum site coverage and maximum area.
It is important to note on the point of detached Granny Flats that the ARH-SEPP now unites the NSW Housing Code for both houses and Granny Flats. The main consequence of this is that the Granny Flat cannot be seen as an external site or as supplement to the maximum area permitted.