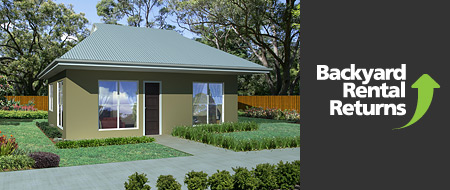 Young-Couple
Our 'Young Couple' design is the perfect 'nest' for the household not quite ready to invest in a formal house. The aim here is to be functional, integrated into our design by the symmetrical layout of the Granny Flat with one side for the 'passive' objectives of the day-to-day – sleeping, resting, etc, and the other side for the 'active' objectives – chores, eating. Placed central to this functional break is an open plane which seeks to maximise spaciousness. Neatly placed in this space is a petite study-desk, an almost-'administrative' table that overlooks the going-ons of the household. What surfaces is a rather functional home. See below for the specs.
Two spacious bedrooms.
In-robes to bedrooms.
Two deluxe bathrooms.
Open-plan area.
Deluxe kitchen.
In-laundry to kitchen.
Smooth internal gyprock surfaces.
Independent safety switch and switchboard.
Independent meter box options.
Decking options.
Concrete slab options.
Clad, render and brick options.
Steel sheet, concrete or metal roof options.
Parking options.