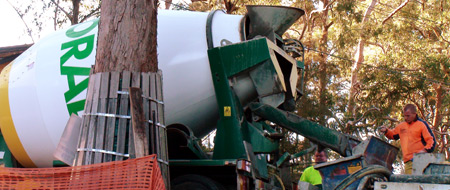 NCG Concrete Services
Laying the right material foundation is important for any successful project. From our experience in suburban work, concrete is the most economical and functional foundation to use.
Concrete is a strong and compact material, which is great for supporting structures. Some concrete applications include: driveways, pathways, house-slabs and gutters. The beauty of concrete is that it can be altered in a number of ways to enhance its appearance. At NCG, we aim to provide a number of design-options so that your concrete can work with any image you desire for your home.
Some of these options include:
Shaping to provide a variety of end-textures.
Patterning from our select designs, or you can even create a pattern-print of your own!
Stamping which can give the appearance of other material-foundations, such as wood or stone slates.
Colouring with a huge variety of colours to choose from for your concrete.
Concrete slabs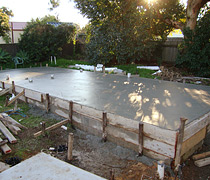 At NCG, we have over 25 years experience in concrete slabs. In this time we have developed great partnerships with concrete providers. Not only does this ensure the best price for our customers, but it also ensures on time, accurate concrete supply. This is important as concrete is prone to numerous short-term issues such as maintaining correct moisture content and density.
Our complete concrete service includes:
Measuring and quotation
Formwork
Pouring new concrete.
We can also remove old-concrete prior to pouring new concrete.
Did you
know…

Every year NCG pours on average 10,000 cubic metres of concrete – that's enough for a pathway from Sydney to Newcastle!
Concrete is not only for large, foundation projects. It can be used to create stunning features, such as retaining barriers, or landscape features such as fountains. At NCG, we understand the artistic potential of concrete and can help you transform this cheap material into something that is functional and looks great!
Contact us today for a consultation and quote.