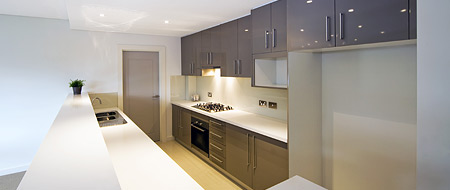 Bathrooms, kitchens and other interior rooms
As part of our alteration, renovation and extension services, we know that there are key rooms that turn a house into a home.
We aim to provide trade-services to the rooms of a house that are the most frequently used, and serve an important functional purpose in the household. So it comes as no surprise that three of our areas of expertise are: the bathroom, the kitchen and the study.
The design and construction of these three types of rooms require a number of trades: architects, carpenters, plumbers, and electricians just to name a few. Sourcing individual architects and tradesmen to complete the project is difficult, expensive and slow.
At NCG, we provide a complete integrated service – from client consultation, through to architectural design, construction and finishing.
NCG offer peace of mind through professional project management that guarantees the construction of the room on time, and on budget. Our clients appreciate the convenience and cost-saving potential of our integrated approach to trade-service.
Bathrooms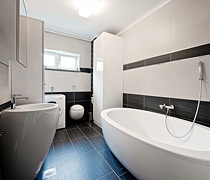 NCG can help you construct a new bathroom from scratch, or alternatively provide trade services for the renovation of an existing bathroom.
Complete design and construction packages
We have a great range of set bathroom designs, or you can create your very own, personal bathroom design – our tradesmen can bring your vision to reality.
Our contemporary bathroom designs incorporate the latest technical innovation in construction and fittings. The result is a comfortable and functional bathroom that will look its best for many years of wear and tear.
We have a range of bathroom package designs for every budget – from $10,000 (AU) to $20,000 (AU). These are complete packages, however there is room for variation to suit your particular needs.
Click here to browse our bathroom packages.
Custom bathroom designs
On the other hand, you may want to create your own, personal design. We can provide architectural consultation or simply quote on trade services and materials in consultation with one of our foremen.
For a quote on trade services, please contact us.
NCG TIP

If you are planning to construct the bathroom on your own, some trade services you may need to keep in mind are: carpentry, plumbing, electrical, tiling and painting.
Kitchens
The kitchen is without doubt one of the busiest rooms in any household. Yes, it is where we prepare food and eat – however with clever design, it can be so much more than that!
The kitchen is a place to enjoy cooking with kids, host friends for lunch, experiment for the amateur chef and a place for a warm meal with those you love most!
The kitchen is truly a place of great potential and NCG have developed ways to ensure that we can help you achieve the best design to suit your needs and a smooth construction process.
As with our bathrooms, our kitchens can be constructed in two ways:
NCG can provide a complete design and construction package
NCG can help you realise your custom kitchen design with quotes on trade services to make it happen.
Complete design and construction packages
Our complete kitchen packages provide the very best in quality and value for money. Designed to incorporate innovative technology for practical daily use, our kitchen packages are constructed by experienced tradesmen.
Click here to explore our kitchen packages.
Custom bathroom designs
If you have your own vision for a kitchen design, we can provide construction advice and a competitive quote to turn your vision into reality.
Design considerations
When designing a kitchen, two major considerations are ergonomics and space.
Ergonomics means that a kitchen must be highly functional and make everyday tasks easier to achieve. Fittings such as pantries, benches, storage mechanisms, drawers and appliances are placed in optimum positions for accessibility and usability. They are also designed to be easy to clean, and minimise the spread of contamination and bacteria to keep your family safe.
Space complements ergonomics. Clever design will improve the flow of people through a busy kitchen, provide storage options and create functional, aesthetically pleasing work areas.
For a quote on trade services, please contact us.
NCG TIP

If you are planning to construct a kitchen on your own, some trade services you may need to keep in mind are: carpentry, plumbing, electrical services, tiling and painting.